Welcome to What's Up Gears fans! We're here to bring you the latest and greatest news, community content and more from the Gearsiverse.
Here's What's Up this week in Gears:
New Gears Funko Pop! figures releasing this month
Issue 1 of the new Hivebuster Comic is out now!
Golden Gun returns to Gears 4 on May 14th
New Gears Collectibles
---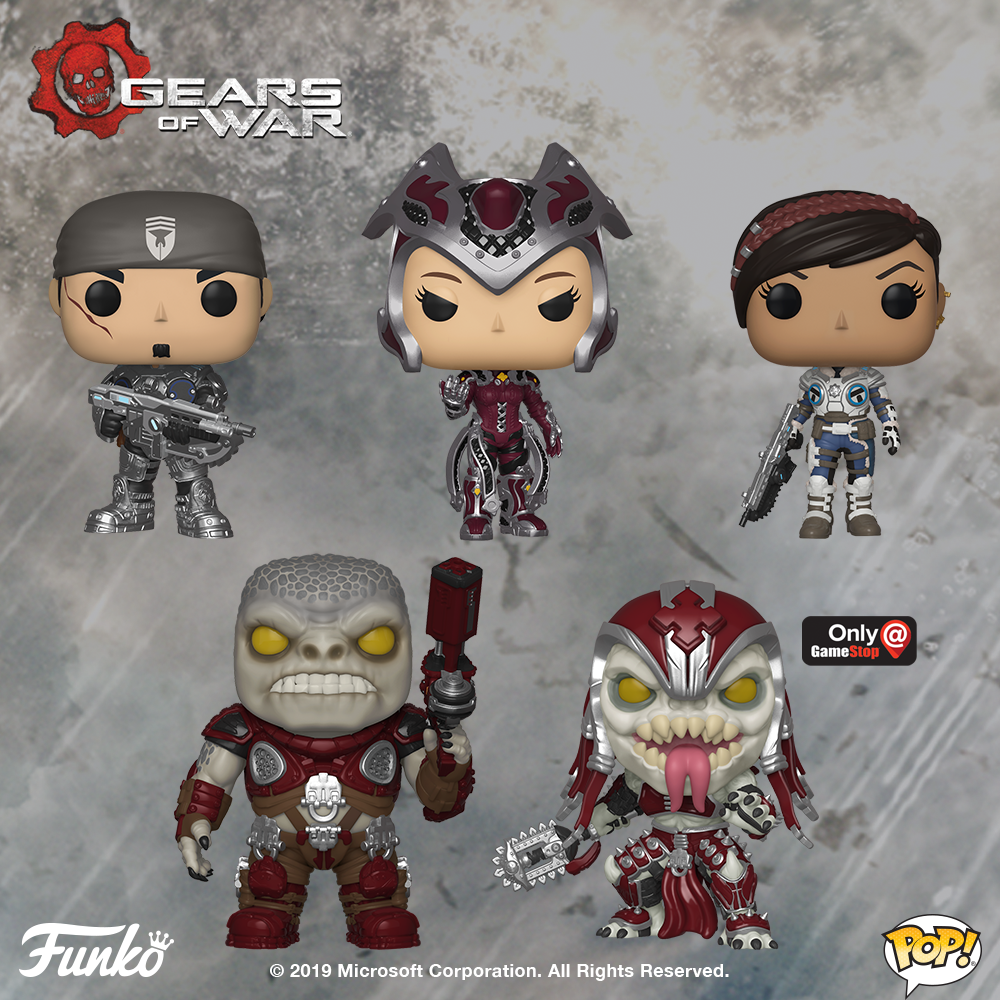 New Funko Pop! Figures
*Over-excited hyperventilating*
Yes, it's finally time for some more Gears Funko Pop! figures and we can't quite handle how awesome this latest collection is. The next series release features two of the most infamous and popular Locust leaders to finally invade your collection – Queen Myrrah and Skorge! Just look at them!
Alongside these long awaited Funko Pop! figures are Gears 5 Kait (as she appeared in the E3 2018 trailer), Classic version of Marcus and a small-but-mighty Boomer.
All five Funko Pop! figures release later this month and are available to pre-order now at your Pop! retailer of choice! If you're after Skorge, you can find him exclusively at Gamestop and in other select retailers in Europe.
Oh it gets better. This is the Gears of War Funko Pop! Collectors Box, a limited release collectable set that contains a whole lot of awesome. (The box itself is also a whole lot of awesome, trust us).
If you manage to secure one these limited-edition collectable sets before they're gone forever, here's what you'll find inside:
Funko Pop! Figures
Marcus Fenix (Gold Dipped)
Skorge (Mono-Red Edition)
Queen Myrrah (Patina Dipped)
Anya (First Time Ever)
Swag
Gears Pop! Baseball Hat
Gears Pop! Physical Pins for Marcus Fenix, Skorge, Anya and Queen Myrrah
Gears Pop! Artbook
If you want to see the whole Collectors Box experience in more detail, we'll be unboxing this live on our Gears 4 Developer Stream today at 3pm PT / 6pm ET on live.gearsofwar.com. Don't miss it!*
*If you are 'Team Keep It In The Box', you may want to find emotional support before the stream starts.
The Gears Pop! Collectors Box is available exclusively at Gamestop and is available for pre-order now ahead of its release on May 23rd. The Collector's Box will also be available in Europe via select retailers.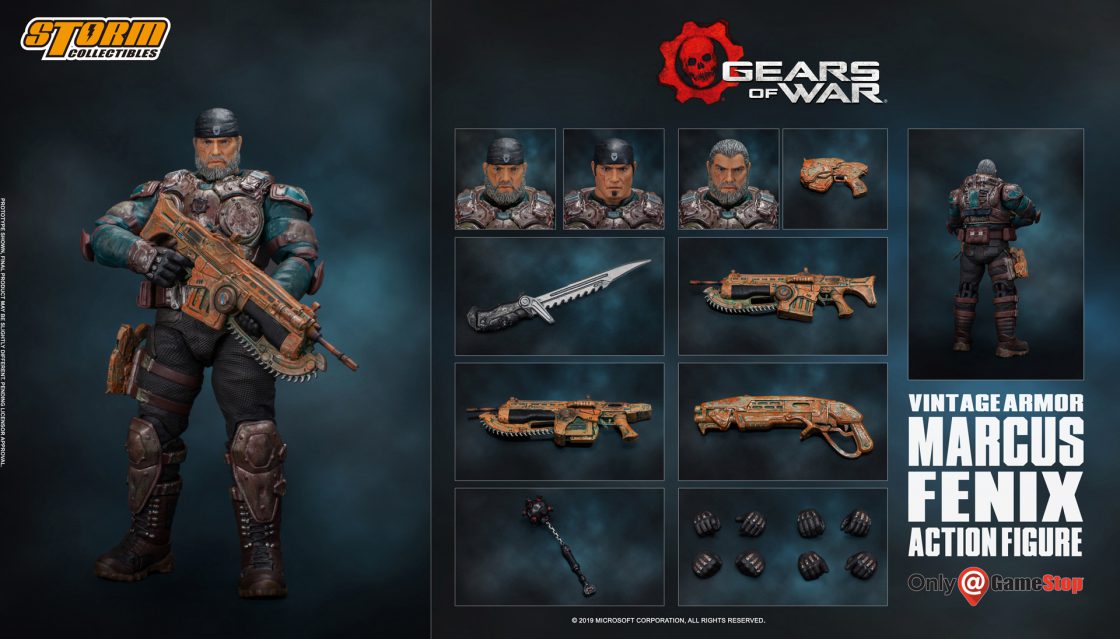 New Gears Action Figures
In addition to the stylized Funko Pop! figures, we've also got brand new 1/12 scale figures on the way from Storm Collectibles!
We know articulation is also really important for Gears fans, which is why both figures have over 30 points of articulation for greater control over posing and position. Both Marcus and Cole also come packed with a ton of accessories, weapons and interchangeable heads included – from Dom's Knife for Marcus to a Thrashball Cole head – so you'll have plenty of control over their look too!
You can pre-order both Marcus and Cole now ahead of their release this Summer. A special Vintage Marcus variant figure with an added Frag Grenade accessory is also available for pre-order exclusively at Gamestop.
Coming Up In Gears 4
---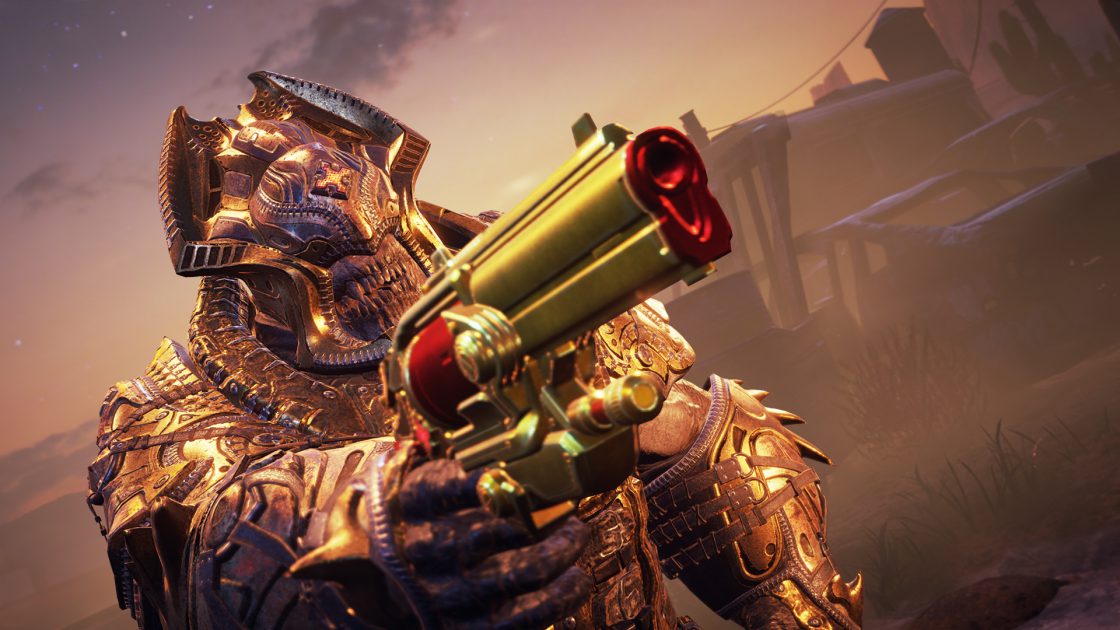 Upcoming Events
Why have one Golden Gun when you can have 10? (Yeah, we sure told that 20 year old game!).
4XP Golden Gun will replace Gnashers Only KOTH beginning Tuesday 14th May.
Gilded RAAM Challenge
This is your official warning that we are now in the final 30 days of the Gilded RAAM Challenge!
Here's a few tips on completing your three challenges in time for the deadline:
Co-Op Campaign on Hardcore: Trying to find a new Gears partner to take this on with? Try the LFG feature in the official Gears Club or Xbox App!
Reach Re-Up 10: Horde is an amazing way to earn huge amounts of XP on the higher difficulties, especially if you equip an XP Bounty. Find a good team, squad up, and destroy those 50 wave Horde runs.
Earn 1,000,000 Challenge Points: If you're looking to complete this in Versus, King of the Hill offers the quickest bang-for-buck return on time invested.
If you need a reminder of the Gilded RAAM Challenge and how to take him to Gears 5, you can read up on the entire Challenge here. You can now also track your Gilded RAAM progress on the official Challenge Page.
Come In, Control
---
Join us later today at 3PM PT/ 6PM ET for our Gears Weekly Live Stream from right here at The Coalition!
We'll be unboxing the Gears Funko Pop! Collectors Box live on air, playing some Gears 4, giving away another Workshop Weapon Skin and hanging out with our amazing community!
Want in? Join us at 3pm PT / 6pm ET tonight at https://live.gearsofwar.com!
TC, out.