What's Up – March 21st 2019

Welcome to What's Up Gears fans! Every Thursday, we're here to bring you the latest and greatest news, community content and more from the Gearsiverse.
Here's What's Up this week in Gears:
Earn Gilded RAAM, Take Him To Gears 5!
Get 5XP in Versus all weekend until Tuesday
Almost every Card in the game is now Craftable!
Stay Frosty returns Friday
Find the new RAAM Funko Pop! at select Gamestop locations!
Coming Up In Gears 4
---
EARN GILDED RAAM, TAKE HIM TO GEARS 5
The Gilded RAAM Challenge has officially begun in Gears of War 4! Complete all three challenges to get both Gilded RAAM and the Black Phantom Weapon Skins now in Gears 4 and – as a first – take them right into Gears 5.
We have dying to tell you about this plan for sometime now and it's really exciting to finally share the news that you can add to your day one Gears 5 collection by playing Gears 4 today! If you haven't read our full announcement, we recommend you head here for the low down.
Since the announcement, we've had a few common questions around the Challenge and the future of Gears 4 content that we want to shed a little light on.
There will be future opportunities to earn characters or weapon skins in Gears 4 that you can take into Gears 5. This content will not be from any existing content we've released so far, just like Gilded RAAM and Black Phantom.


The Challenges are active for 80 days beginning today and can be tracked in your Gears 4 Achievements. Each of the three Challenges contains 'Gilded RAAM' in the title so you can easily tell which one is which.


The Gilded RAAM Challenges will not appear on GearsofWar.com/MyRewards. Once all three Challenges are completed, the content will unlock instantly in-game.


You can use players on differing difficulties for the Hardcore Co-Op Challenge, but only players on Hardcore or above for the duration of the Challenge will get the Challenge Completion.


The Re-Up 10 Challenge requires you to reach Re-Up 10 or higher and is retroactive. This is not Wings 10 (which is Re-Up 20) nor is it a requirement to Re-Up 10 more times.


As a reminder, the 1 Million Challenge Point Challenge tracks Horde XP (1:1) and Versus Score (2:1).
5XP WEEKEND
To get you started on your hunt for Re-Up 10, we've enabled 5XP across all Versus Playlists beginning today running throughout the weekend!
Since we also had some technical issues causing some issues getting into games earlier in the week, we're leaving 5XP up until Tuesday March 26th rather than our usual Monday finish as a thank you for bearing with us while we resolved the issue.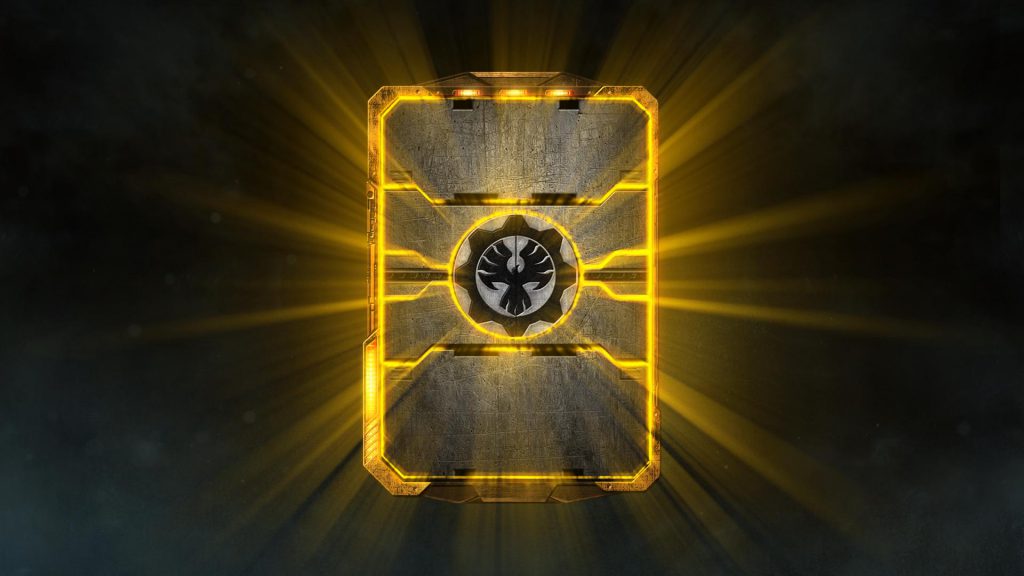 SERIES 3 UPDATE
To mark the end of Gear Pack releases in Gears 4, we've added almost every character and weapon skin set EVER RELEASED into Series 3! That means hundreds (and hundreds!) of extra Cards can now be Crafted or found in standard Gear Packs.
We say almost because there are exceptions to this rule like past Esports content (including Black Steel) and certain earnable skins. For a full list of exceptions, read here.
STAY FROSTY
Stay Frosty is making a comeback!
For those of you who don't know, Stay Frosty in Gears 3 armed you with a higher-damage Hammerburst, pocket-sniper worthy Snub pistol and a grenade. With no DBNOs, the game mode was all about ranged combat, effective use of cover and smart movement.
We've been developing this mode along with the community and we're bringing it back the the Version 2 format that features the pocket sniper Boltok variant instead of the Golden Gun.
Enjoy Stay Frosty in Gears 4 beginning Friday, March 22nd!
FEATURED PLAYLIST
Everyone is getting a huge 5XP fix this weekend, but once we're back to business as usual on Tuesday, Execution will be the next playlist getting the 4XP love.
RAAM as a Funko Pop!
---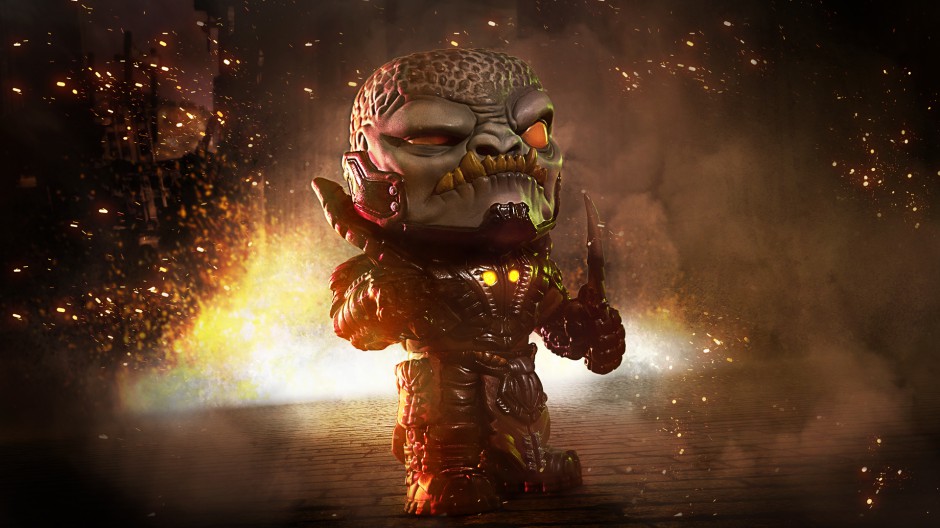 Gilded RAAM might be stealing the headlines this week, but at Emerald City Comic Con, another RAAM was stealing our hearts! The General has never looked so cute (but tough, but cute).
For those of you who were unable to make it to the Funko booth at Emerald City Comic Con last weekend, you can find the General RAAM Funko Pop! as a limited time exclusive at select GameStop locations and online! Be check your local GameStop store for in-store availability.

Additionally, our very own Greg Juby (Art Director at The Coalition) joined a special Funko Panel to discuss the many designs behind the iconic Funko Pop! figures. The team shared what it takes to make a Funko Pop! dream a reality – including how we shrunk down Cole Train's Thrashball physique into a tiny Funko Pop! If you were unable to attend the panel, you can watch it on SYFY WIRE now.
This Week in Esports
---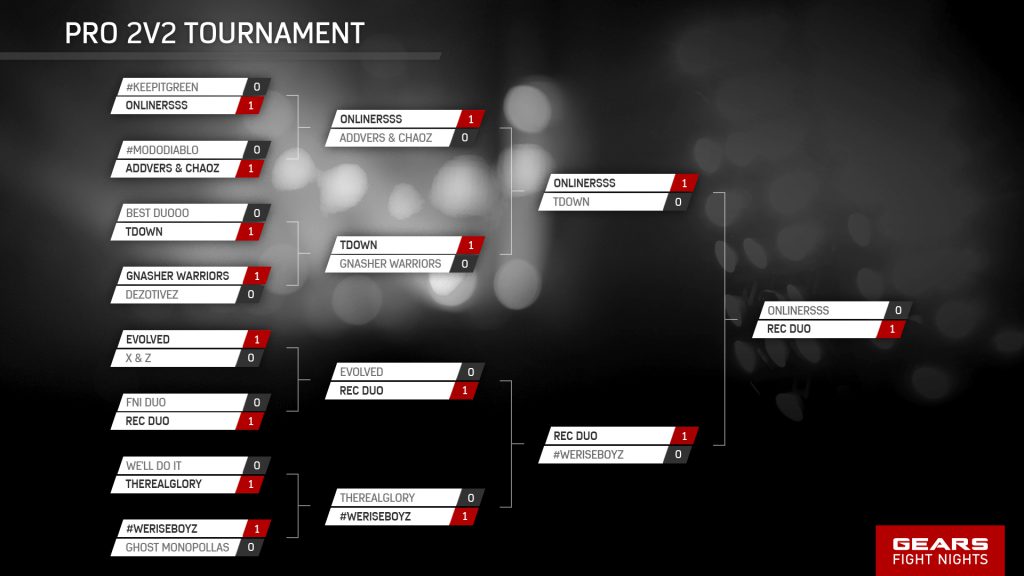 This Week in Esports saw the conclusion of the Gears Fight Night Pro 2v2 Tournament, the announcement of this season's All-star series and several announcements pertaining to the upcoming Gears Pro Circuit Boston Open.
Only 8 teams remained going into this week's 2v2 Pro Tournament finale, including representatives from OpTic Gaming, Reciprocity, Ghost, Rise and Simplicity. Like week one, week two was loaded with upsets throughout, with bottom seeded Onlinersss (Kenny and Toti) making their way to the finals to face off against Rec Duo, who edged out Rise's Avexys and Powerz in the round before. While the matches leading in set the stage for a close grand final, Reciprocity's chemistry would prove to be too much for the Onlinersss to handle, with Rushiez and Rezik taking home the lion's share of the $10,000 prize pool behind a 10-5 victory.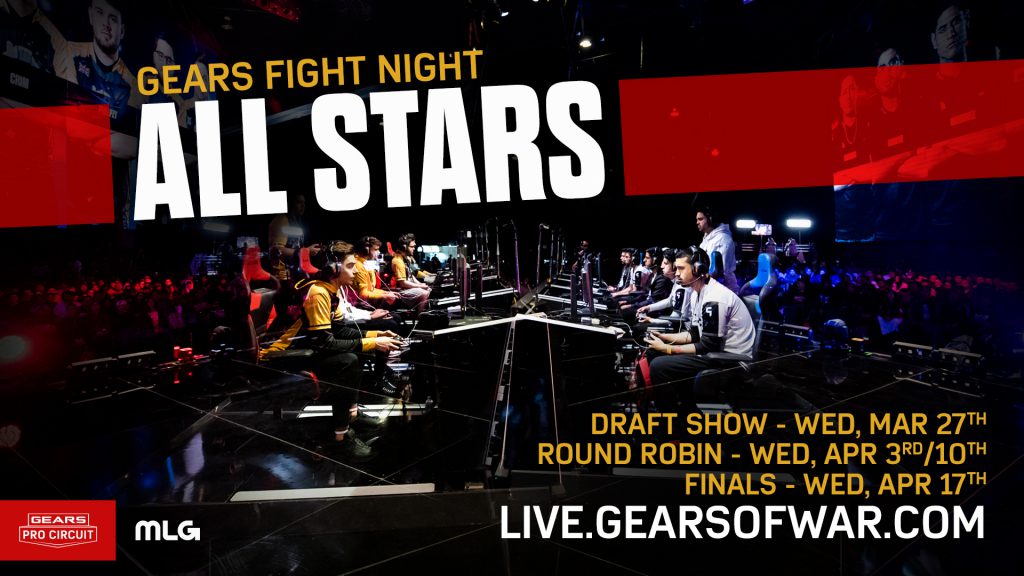 With Season 2 of the Gears Pro Circuit coming to a close in Boston, there are only a few episodes of Gears Fight Night left, and what better way to wrap things up than an All-star event. Tune in and watch as four of your favourite Gears Esports casters draft teams featuring players from the top Gears Pro Circuit rosters, along with 4 selected by you (the fans), to go head-to-head with the winning team walking home with $5,000 (and the caster taking serious bragging rights). Action kicks off with the draft next week and full details, including how to vote for your favorite player, can be found here: https://gearsofwar.com/en-us/esports/GearsFightNights/Allstars.
The Gears Pro Circuit Boston Open is only a little over a month away, and between the $300,000 main event and $20,000 2v2 Gnashers Only side-tournament, the event promises to end Season 2 with a bang. This week we announced the event will be hosted by MLG, along with the venue, and opened pass sales to spectators and teams alike. Check out http://events.mlg.com/gpcboston for full event info and to pick up your passes today!
Come In, Control
---
Join us later today at 3PM PT/ 6PM ET for our latest Weekly Coalition Developer Live Stream! As always, we'll be there to answer your burning questions, play with the community and add the next Workshop Weapon Skin to your collection.
See you there later today at https://live.gearsofwar.com
TC, out.