Gears of War 4: E3 2016 Recap
We've been eagerly anticipating reaching the right time to talk to our fans more about Gears of War 4, and just like that, E3 sweeps in and unleashes a barrage of news all at once! We're incredibly excited to reveal so many important elements to Gears of War 4 over the course of the show - from the Xbox Play Anywhere program, to the simultaneous PC release for the first time in Gears history, to the return of Horde after 5 long years, and more.
We've rounded up all the key Gears of War 4 news from E3 right here for your digesting pleasure. Thanks to everyone who tuned in to support Gears of War 4 at the Xbox E3 Briefing - only four months left till launch!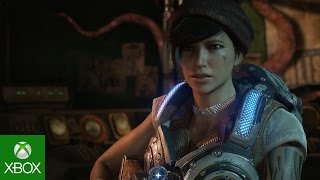 It's time for your second piece of gameplay from the campaign of Gears of War 4! Last year, we provided you a taste of the darker side to Gears of War 4, where the dark of night hides an unknown new enemy, and the hunters become the hunted.
Our demo this year focuses on showing the chaos that ensues when a Windflare strikes, and the new tactics needed to succeed. Windflares are a new environmental danger for Sera and are a result of the natural imbalance caused by the destruction of Imulsion in the first trilogy.
Dive into the video below to get your next glimpse of Gears of War 4's campaign!
Gears of War 4 Comes to Windows 10 this October!
Gears of War 4 is coming to Windows 10 this October! We couldn't be more excited to bring the first ever PC day–and-date release for the Gears of War franchise to our PC fans.
Gears of War 4 supports glorious 4K resolution with ultra-high quality textures, and brings many of the PC centric features we introduced in Gears of War: Ultimate Edition over to Gears of War 4. You can also play cross platform with Crossplay, and purchasing the game on one platform also gives you instant access to the game on the other. Check out our Crossplay and Xbox Play Anywhere section below for more info.
We're showing Gears of War 4 running at 4K resolution at our theater at E3, and we'll be giving you your first look online in the near future. Keep an eye on Facebook and Twitter for your first look!
Get ready to fight some Swarm! Five years since its last appearance in Gears of War 3, Horde is back and better than ever. This new incarnation of Horde introduces combat classes, skill and ability progression and lets you deploy weapons and fortifications anywhere on the map – plus a whole lot more.
We're not quite ready to fully lift the curtain on Horde just yet, but we'll be talking about it in greater detail later this year – stay tuned for more information.
Xbox Play Anywhere & Crossplay
Crossplay and Xbox Play Anywhere are coming to Gears of War 4, providing added value and uniting the Gears of War community wherever you play.
Play Anywhere means Buy Once, Play Anywhere. When you purchase a digital copy of Gears of War 4 on Xbox or PC, you'll gain instant access to the game on both platforms at no additional cost. Any progression or content you acquire on one platform, including Season Pass and Gear Pack content, will also be available on both platforms regardless of where you buy.
Crossplay opens up a wider community to play with than ever before across our co-op modes. Here's what to expect in Gears of War 4:
Campaign: Play co-op campaign across Xbox and PC. Your saves and collectibles transfer to both platforms, allowing you to pick up the action regardless of which platform you play on.


Horde: Fight the Swarm alongside your friends and find new allies in matchmaking from either Xbox or PC.


Versus: Train up your skills in Co-Op Versus with friends from either platform. To preserve the competitive nature of Gears and individual balance for each platform, Crossplay is not enabled in standard Versus multiplayer.
We're showcasing live gameplay of Crossplay between Xbox and PC in our theater demo experience, so keep an eye out in the gaming media for more impressions of Gears of War 4 over the coming days.
HDR Support via Xbox One S
We are proud to announce that Gears of War 4 supports High Dynamic Range (HDR) through the Xbox One S, delivering richer, more luminous colors on HDR-ready TVs.
We'll be showing Gears of War 4 running on the Xbox One S in HDR on the show floor at E3, so expect impressions on Gears of War 4 in HDR to appear throughout the week.
Gears of War 4 Limited Edition Xbox Elite Controller
Announcing the Xbox Elite Wireless Controller - Gears of War 4 Limited Edition! This Swarm inspired controller features a gritty, battle-weathered design, an arsenal of swappable components, Hair Trigger Locks, an exclusive in-game item, and three Gear Packs.

Pre-orders for the Gears 4 Limited Edition Xbox Elite Controller will be available soon! Stay tuned for more news.
Buy Gears 4, Get The Gears Xbox 360 Collection Free!
For a limited time, all purchases of Gears of War 4 include the entire Gears of War Xbox 360 library for free, all playable on Xbox One thanks to Backwards Compatibility! The Gears of War Xbox 360 collection provides you with four incredible games, from epic saga of the original Gears of War trilogy to the standalone story of 'Gears of War: Judgment'.
Physical copies of the game will come with codes for each of the four titles to download via Xbox Live. For those who purchase digitally, your codes will be sent via Xbox Live message – we'll be sharing more information on digital distribution closer to launch.
Gears of War 4 is now available to pre-order, both digitally and physically. Our official Pre-Order page has all the details – but there's a few new pieces of information to share since our initial announcement on the updated offerings of each version.
Xbox Play Anywhere – where purchasing on one platform also entitles you to own the game on the other – is exclusive to digital purchases due to needing a digital license.


Gears of War 4: Ultimate Edition comes with Season Pass, giving you access to all future DLC maps for Private Play. For Horde players, this means you can play all the future DLC maps whenever you want with friends, regardless of if they are available in the free rotation – only the host needs to own the map, so you can share your content with all your friends even if they don't own the Season Pass.


The Season Pass – included in Gears of War 4 Ultimate Edition – grants gamers exclusive Vintage VIP Pack, permanent access to 24 additional DLC maps (two per month per year) for private play, access to an exclusive Developer Playlist where new maps, modes and features can be tested prior to broad release and six Gear Packs.